Justice
MIYAZAKI, Yuko
Date of Birth: July 9, 1951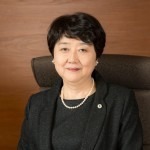 Career
Education:
Graduated from the University of Tokyo, Faculty of Law in 1976
Qualification:
Appointed as a legal apprentice in 1977
Professional Career:
1979

Registered as an attorney (Dai-ichi Tokyo Bar Association)
1984

Received LL.M., Harvard Law School
1984

Counsel, Legal Department, the World Bank
1993

Member of the Industrial Structure Council (Industrial Finance Committee), Ministry of International Trade and Industry
2004

Visiting Professor of the University of Tokyo, School of Law
2007

Member of Taxation Committee, Japan Federation of Bar Associations
2009

Visiting Professor of the Center for Law and Policy Studies, Graduate School of Law, Kyoto University
2011

Bar Examiner
2015

Member of Management Advisory Council, the University of Tokyo, School of Law
2018

January 9, 2018 Justice of the Supreme Court
Motto, hobbies
Things to Keep in Mind as a Justice
The volume of information we receive has increased tremendously in step with the progress in science and technology, the increasing complexity and globalization of the economy, the diversification of values, and so on. While being overwhelmed by this situation, it has been my belief that a legal practitioner should impartially see things like a bird high up in the sky taking a broad view, inspect things carefully like an insect, and read the current of opinion like a fish in a stream, as well as listen carefully and see things from multidirectional angles. Although there are some differences between the role of a private practitioner and a Justice, I intend to maintain this basic stance as a Justice of the Supreme Court.
Favorite Word or Term
I have been attracted by the phrase "continuity is the father of success" since my earlier years.
Books that Left an Impression on Me
"Hitosara no Ryori" (One Dish) written by Hisaya Tsunehara, "Saka no Ue no Kumo" (Clouds above the Hill) written by Ryotaro Shiba and "Solomon no Gisho" (Solomon's Perjury) written by Miyuki Miyabe
Hobbies
Watching Kabuki (traditional Japanese theater involving drama and dance), singing gospel songs, and reading mystery novels, essays on food and the mysteries of recipe.