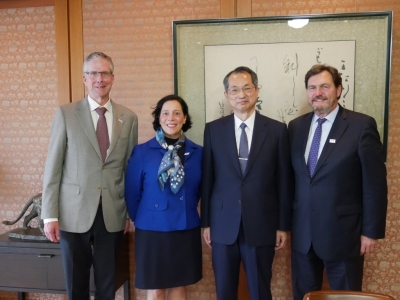 The Right Honorable Richard Wagner, P.C., Chief Justice of Canada, visited Japan in October, 2019.
On October 21, Chief Justice Wagner, accompanied by the Honorable Catherine Mandeville, Judge of the Superior Court of Québec, and Mr. Ian Burney, Ambassador of Canada to Japan, visited the Supreme Court of Japan to pay a courtesy call on Chief Justice OTANI Naoto. They exchanged greetings and discussed several issues of mutual interest.
Following the courtesy call, they toured briefly a courtroom of the Supreme Court.