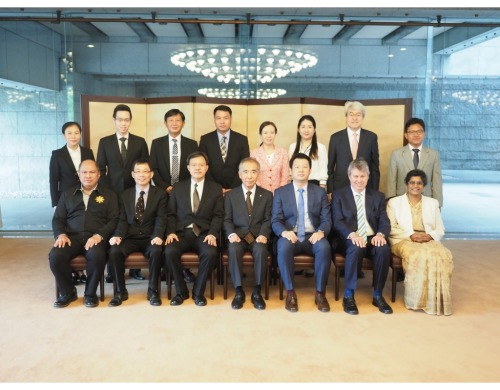 On the occasion of Judicial Symposium on Intellectual Property (JSIP) 2019, Presiding Judge Kyuhong LEE of the Patent Court of Korea, Senior Judge Lang Guimei of the Intellectual Property Division of the Supreme People's Court of China, Senior Judge Wang yuanyuan of the Shenzhen Intellectual Property Court of Shenzhen Intermediate People's Court, Justice John Nicholas of the Federal Court of Australia, Justice Prathiba M. Singh of the High Court of Delhi visited Japan.
On September 24, the five judges visited the Supreme Court of Japan to pay a courtesy call on Justice KANNO Hiroyuki. They exchanged greetings and discussed several issues of mutual interest.
Following the courtesy call, the five judges toured briefly a courtroom of the Supreme Court.