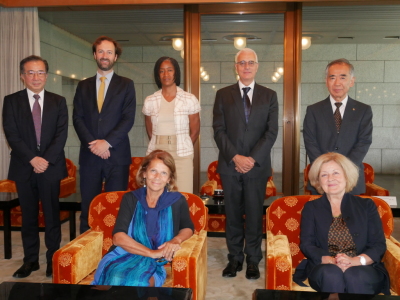 Participants of "Japan-France Law Conference" visited the Supreme Court of Japan on September 18, 2019.
Judge Dominique Hascher of the Court of Cassation of France, Prof. Nicolas Cornu-Thénard of the University of ParisⅡ, Judge Nicole Maestracci of the Constitutional Council of France, Prof. Dominique Custos of the University of Caen Normandy, and Judge Sylvaine Poillot-Peruzzetto of the Court of Cassation of France paid a courtesy call on Justice KANNO Hiroyuki and Justice MIYAMA Takuya. They exchanged greetings and discussed several issues of mutual interest.
Prior to the courtesy call, they toured briefly a courtroom of the Supreme Court.