Justice
HAYASHI, Michiharu
Date of Birth: August 31, 1957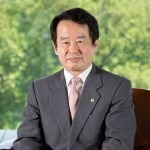 Career
Education:
Graduated from the University of Tokyo, Faculty of Law in 1980
Qualification:
Appointed as a legal apprentice in 1980
Professional Career:
1982

Appointed as a Judge, and then, assigned to Tokyo District Court, Civil affairs Bureau, Supreme Court, Private Pension Division, Pension Bureau of Ministry of Health and Welfare, Sapporo District/Family Court
1992

Judge, Tokyo District Court
1993

Counselor, Civil Affairs Bureau, Supreme Court
1996

Director, Second Division, Civil Affairs Bureau, Supreme Court
1999

Director, First and Third Division, Civil Affairs Bureau, Supreme Court
2002

Judge, Tokyo High Court
2003

Presiding Judge, Tokyo District Court
2005

Professor, Legal Training and Research Institute
2005

Director of the Secretariat, Legal Training and Research Institute
2009

Director-General, Civil Affairs Bureau and Administrative Affairs Bureau, Supreme Court
2010

Director-General, Financial Bureau, Supreme Court
2013

Chief Judge, Shizuoka District Court
2014

Presiding Judge, Tokyo High Court
2014

Chief Judicial Research Official, Supreme Court
2018

President, Tokyo High Court
2019

September 2, 2019 Justice of the Supreme Court
Motto, hobbies, etc.
Things to Keep in Mind as a Justice
There are no two disputes or cases that are the same among those we deal with at court. Therefore, I intend to see each dispute or case from multilateral perspectives and gain a full understanding of its realities and facts from the circumstances behind it, in an effort to reach a solution or judgment that is best fit to it. To make this possible, I try to always have a healthy sense of curiosity about various things.
Favorite Word or Term
"One chance in a lifetime" "Seek advice from many people"
In my life, I have met many people in and outside the court and received advice and instructions from them. These encounters have helped me grow into the legal professional I am today. I want to further develop such interactions with various people and also want to convey what I have learned from experience to those younger than me.
Books that Left an Impression on Me
While in the office of the chief judge at the Shizuoka District Court, I took interest in Imagawa Yoshimoto's law in the period of the warring states. Since then, I have been hooked on medieval history focusing on laws and trials and have been reading related books when I have a chance to buy them. Among these books, Kenka Ryoseibai no Tanjo (Birth of kenka ryoseibai—the law of equal punishment on both parties in a quarrel) written by Katsuyuki Shimizu, Chuseijin to no Taiwa (Dialogue with medieval people) written by Hiroshi Kasamatsu, and Muromachijin no Seishin (Spirit of people in the Muromachi Period) written by Eiji Sakurai, were interesting and exciting.
Hobbies
In addition to watching live sports games (baseball, soccer, and basketball) with my eldest son, I love reading books of any genre. I go to the bookstore every week to buy books, mainly paperbacks, or sometimes just to see books when I have no plan to buy one. I am sad that many small bookstores in the town have closed recently. I also love going to see both live-action and animated science fiction movies (featuring space, AI, time travel, parallel worlds, dystopias, etc.). This summer, just before becoming a Supreme Court Justice, I went to the cinema with my family and enjoyed Tenki no Ko (Weathering with You), the latest movie directed by Makoto Shinkai.