Justice
TOKURA, Saburo
Date of Birth: August 11, 1954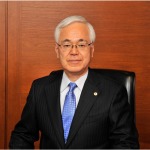 Career
Education:
Graduated from Hitotsubashi University, Faculty of Law in 1980
Qualification:
Appointed as a legal apprentice in 1980
Professional Career:
1982

Appointed as a Judge, and then, assigned to Osaka District Court, Sapporo District Court, Civil Affairs Bureau, General Secretariat of Supreme Court, Personnel Affairs Bureau, General Secretariat of Supreme Court, Tokyo District Court
1992

Judge, Tokyo District Court
1994

Professor, Legal Training and Research Institute
1998

Judge, Hiroshima District Court
1999

Presiding Judge, Hiroshima District Court
2000

Director of the Secretariat, Hiroshima High Court
2004

Counselor, Personnel Affairs Bureau, General Secretariat, Supreme Court
2004

Councilor, General Secretariat, Supreme Court
2008

Presiding Judge, Tokyo District Court
2009

Director-General, General Affairs Bureau, General Secretariat, Supreme Court
2013

Judge, Tokyo High Court
2013

Chief Judge, Saitama District Court
2014

Secretary-General of Supreme Court
2016

President, Tokyo High Court
2017

March 14, 2017 Justice of the Supreme Court
Motto, hobbies
Things to Keep in Mind as a Justice
I think it is very important to be aware of the inherent limitations of human ability. Even the most knowledgeable people with the broadest experience cannot accurately understand everything in the world. This sense of humility is particularly vital for viewing things. I try to make my mind as a blank state, without being influenced by personal values and experience. This is not easy to practice effectively, but I will continue with my improvement efforts, because I believe this is an essential approach to grasping the essence of the situation, which provides a basis for flexible interpretation from multiple viewpoints.
Favorite Word or Term
My favorite words of wisdom are "Ichigu o terasu." This is a phrase from the writing of a Japanese priest who lived long ago. It summarizes the importance of individual persons identifying the significance of the given task in the given situation and exerting quiet, devoted efforts to perform the task. That idea struck a chord in my heart, and has become my guiding philosophy in life.
Books that Left an Impression on Me
I enjoy reading, and aside from railway-related themes (area of my special interest), I read several genres, choosing titles based on my interest of the time. Yet, I often focus on British travel and history writing as well as historic works on Japan's Showa era (1926-89). My long-time favorite in this area is Shippai no Honshitsu (The Essence of Failure), written by Ryoichi Tobe and five other authors. As a repeat reader, I have been intrigued each time by its deep insights into critical issues inherent in many Japanese organizations.
I also like mystery novels, and one of my favorite novelists is F.W. Crofts. My initial attention was drawn to his background as a railway engineer. I have been enthralled by his story development, which centers on the detective's rigorous analyses of the case based on facts collected via persistent effort, rather than a flash of intuition. I also like his works where the criminal plays the lead character, allowing you to enjoy the mounting thrill of being chased by the detective.
Hobbies
I have had a long-time interest in railways, starting from elementary school. I have not established an area of specialty in activities combined with that interest, such as photography and complete riding, which is a popular practice recently. However, my passion has grown for the old rolling stock decommissioned from the former Japanese National Railways. I like visiting railway museums, such as the now-closed Tokyo Transportation Museum in Akihabara, the Railway Museum in Omiya and Usui Pass Railway Heritage Park in Annaka, Gunma Prefecture, to indulge myself in nostalgic mock train rides in preserved cars.
Another favorite pastime of mine is walking around and exploring towns and streets, which developed from an exercise routine I began ten years ago. The first time I explore a town is particularly exciting, but it is often difficult at the same time, as I may accidentally come across a local train, posing a dilemma over which to choose: continue the walking exploration or take a first-ever ride on the train.